I just heard that internet searches for "spring cleaning" are up over 183%.  I am not surprised.    I think a lot of us are ready for a fresh start.  And our closet is a great place to begin!
I'm a gal that loves order and organization. For me the bliss of spring cleaning is not just about getting to organize my home, but also donating the things we don't need. I am a firm believer that as we let go of the old, we open the door to receive the new. Try giving away things with an abundant attitude and watch what happens!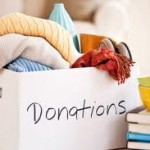 Whenever I clean out my closet I do so with a happy heart, because I know each and every piece of clothing and pair of shoes is going to be put to good use.  No need to cringe when deciding whether or not to give up that perfectly new sweater you never wear.  Find a great charity in your area and spread the joy.
Free yourself of old baggage—literally and figuratively—that may be hanging around in your closets.  I promise you'll find it liberating!


Lisa Hammond
The Barefoot CEO ®