Best stocking stuffer ever…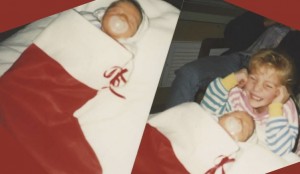 22 years ago I was in labor– well 21 years and 353 days ago to be exact since his marathon labor went on for 3 days—and here I am celebrating my son's 22nd birthday today.
Here are few things I have learned about the adventure of parenting…
1. Before your kids hit double digits you know everything, for the next decade you don't know anything, after that I find you start getting smarter the older your kids get.
2.  What applies to one child, won't apply to the next.
3.   I  agree with Maya Angelou—whom I admire greatly— your child wants your eyes to light up when they walk into a room.
4.  If children are cranky put them in water.
5.  If their parents are cranky put them in water too. There isn't much a warm bath can't cure.
6.   To quote Erma Bombeck, "I take a very practical view of raising children. I put a sign in each of their rooms: "Checkout Time is 18 years."  However, in this day and age they may show up again for a few months every now and then- even after they have left and that is okay too. As long as it's temporary.
7.   Show up, and just keep showing up.
8.   Don't say it unless you mean it.
9.   Whatever childhood memory you are worried has scared your child for life—you can stop worrying about—it is something you haven't even thought about.
10.  There isn't a manual, so we can all stop looking for one.


Lisa Hammond
The Barefoot CEO ®