I may be the only woman I know with an autographed 8 x 10 framed photo of Dick Vitale in her office.   March Madness is a national holiday in my home.
I have gone to the tourney for over 25 years, and I have learned a few things along the way:
Teamwork Is Triumphant
One of the greatest games in history taught us just how magical teamwork can be.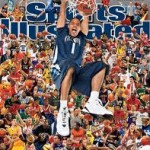 When the Villanova Wildcats upset the Georgetown Hoyas in 1985 it was because they united as a team and beat the odds.
"The best teams are team in any sport that lose themselves in the team. The individuals lose their identity. And their identities come about as a result of being in the team first." — Mike Krzyzewski
Size Doesn't Matter
I first started following Muggsy Bogues back when he played for Wake Forest.  Because of Muggsy I became a huge Demon Deacon fan!  Standing just 5 feet 3 inches tall in height, but a giant in spirit, he was an inspiration both on and off the court.
Watching Muggsy was a constant reminder that size doesn't matter.  Hard work and determination do. Muggsy was the shortest player to ever play in the NBA. He played for 14 seasons before he retired.
Trust Your Gut
In life and in basketball brackets sometimes we just over think things.  I used to read, study, stress, watch way too much team coverage and then stress some more before I would fill out my brackets.   I have learned to trust my gut.
I am notorious for picking underdogs—which I inevitably get a lot of grief for.   However, I remind all the guys in my pool that A) I picked the infamous Austin Peay game in 1987 and B) I still hold the record for winning our pool the most years in the last 25.  They don't call me the Queen of Bracketology for nothing!
There is Power In Passion
If you watch Dick Vitale and don't feel his passion for life and for the game of basketball you aren't paying attention.  Sometimes it's hard to tell who is having more fun at the Big Dance, the teams playing or Dick Vitale. He is a great example passion and purpose.
"I learned from my mom and dad, who didn't have a formal education but had doctorates of love. They told me that if you gave 110 percent all the time, a lot of beautiful things will happen. I may not always be right, but no one can ever accuse me of not having genuine love and passion for whatever I do." –Dick Vitale


Lisa Hammond
The Barefoot CEO ®