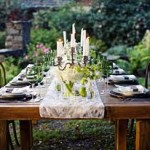 As we all gather around to feast with family and friends I wonder who else you would like to invite to dinner?  If you could have that one dream dinner which 10 people, living or dead, would you invite?   It's an interesting question.  Who would YOU invite over?   I'd love to know!  Comment or send me a Tweet @TheBarefootCeo
My 10, at least for tonight's dinner is…
Erma Bombeck
It was a collection of Erma Bombeck's best selling books that first introduced me to 'adult' literature.  I was probably in 2nd grade.  I loved her sense of humor. I never returned to the children's section of the library again.
Richard Branson
His business style is a true inspiration, and his commitment to giving back is evident and impressive– plus having him to dinner brings me one step closer to an invite to his island. Haha
Alexandra Wentworth
Because she is hilarious and I am pretty sure we were separated at birth.  I have long suspected this, but after I read her book, I think I have proof.  Her seashell addiction rivals mine and I thought I was the only one who believes a stay at the Four Seasons is the answer to everything.
Nicholas Kristof
Pulitzer Prize wining writer. Co-Author Half the Sky: Turning Oppression into Opportunity for Women Worldwide.  If we change the trajectory of the lives of women and girls we will in fact change the world.  We are finally starting to understand this, now we need to find ways to implement it.
Clara Barton
Nurse, pioneer American teacher, and Founder of the Red Cross.  As a child I read my book about Clara Barton over and over again.  She became a shero of mine early on.   Clara went to the front lines during the Civil War to make sure the troops were taken care of. We could use a Clara Barton right now to lead the way to insure our veterans get the medical care they deserve.
Gloria Steinem
To say her book Revolution From Within changed my life, would not be an understatement.  Meeting Gloria Steinem was on my Life List.  Crossing it off my Life List was an honor I will never forget.
Dick Vitale
Coach, broadcaster and author. Dedicated to supporting the V Foundation in honor of Jimmy Valvano, to stamp out cancer. Dickie V, as he is known, loves college basketball, and so do I.  He is a great example of living your passion!
Muhammad Yunus
Won a Nobel Peace Prize for his work in microcredit. Founder of the Grameen Bank.  Muhammad Yunus embodies the notion that one person can and does make a difference!
Elizabeth Cady Stanton
Without her women wouldn't have the right to vote.  Politics are personal.   The right to vote didn't come easy.  And we shouldn't forget the sacrifices that were made on our behalf.  Women we must vote!
Harlie Hammond
My amazing daughter.  Because I want her to hear these incredible conversations.  The future is in the hands of the next generation.


Lisa Hammond
The Barefoot CEO ®