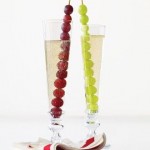 Whether you are toasting in Time Square or dancing around a bonfire on a beach, we all celebrate in our own unique ways.  Regardless how you ring in the New Year we all get to start 2014 off shiny and fresh!
In Spain they count on grapes to bring good luck.  Eating 12 grapes at midnight, one for each stroke of the clock. Each grape represents good luck for one month in the coming New Year.
In South America brightly colored underwear is the lucky charm, red if they are looking for love, yellow if they want to attract prosperity in the New Year.
During the New Year's Eve celebration of Hogmanay, "first-footing" is practiced all over Scotland. The custom dictates that the first person to cross the threshold of a home in the New Year should carry a gift for luck (whiskey is the most common).
In the Philippines it is all about wearing polka dots and eating round fruits to bring prosperity and abundance in the New Year.
In South Africa they are serious about out with the old, in with the new.  In down town Jo-burg locals throw old appliances out the window on New Years Eve, so heads up!
If its whipped cream you fancy, head to Switzerland where dollops are dropped on the floor to symbolize the richness of the year to come.
In Japan the truly dedicated wear a costume of the next year's zodiac animal—in 2014 it will be a horse—to the local temple to await the bells sacred 108 chimes.
Ecuadorians usher in the New Year by scaring away bad luck when they burn a newspaper-stuffed-scarecrow outside their homes. The burning tradition is said to burn away the bad things of the prior year and scare bad luck away from the next year.  After that, you are sure to have nothing but good luck in the New Year.
In Dutch homes eating a ring shaped fritter called oliebollen, symbolizes coming full circle and leads to good fortune.
In Holland, toasts are made with hot, spiced wine.
In Columbia residents there seeking a travel filled New Year carry empty suitcases around the block.
In Mexico at midnight on New Year's Eve, they open the door and symbolically sweep out the old; then toss some coins on the ground and sweep them into the house for prosperity.
In China, firecrackers are said to rid the forces of darkness from the old year so you can start your New Year off fresh.
Beware of friendly neighbors throwing plates in Denmark. Danes ring in the New Year by hurling old glasses and plates against relatives and friends doors.
The practice of making New Year's resolutions is said to have begun with the Babylonians as early as 2600 B.C., and my guess is the tradition of breaking New Year's resolutions started in 2601 B.C.
Happy NEW Year!


Lisa Hammond
The Barefoot CEO ®