Often, after I have shared a personal story during a speech or workshop, women approach me, expressing a deep sense of gratitude for my willingness to reveal my warts and all. The discovery that they were not alone in their imperfections was like water on dry ground for these women. You could almost hear their collective sighs of relief, You mean I am not the only one?
Women today face more challenges than ever—accompanied by feelings of being overwhelmed and spread much too thin. More and more of us are raising our hands and speaking up, telling the truth about how we feel. And as we do, other women are saying, "Me, too! Oh, thank God I'm not the only one!"
As we become more open and honest with each other—more willing to admit maybe we don't love being a mother every single day—maybe we can't remember the last time we actually had time to shave our legs—maybe our white picket fence life didn't turn out the way we thought it would—maybe we aren't rock stars at work every single day—maybe it is okay to say we are each doing the best we can—even if sometimes the best we can do is mediocre.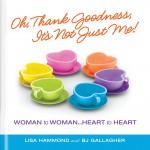 Slowly we are starting to realize we are not alone. That is why I wrote Oh Thank Goodness It's Not Just Me! A celebration of the circle of strength women share— the common experiences in all our lives. The undeniable fact is that there is comfort and reassurance in knowing we are not alone.


Lisa Hammond
The Barefoot CEO ®